We've been keeping Canadians safe since 1987.
For over 30 years, TeleCare® has specialized in monitored medical alerts and home safety. Although particularly useful for the elderly and those with disabilities or physical limitations, our services are available to all Canadians including businesses, students and adults who are looking for innovative solutions to common safety concerns. Our services are affordable for ALL and guarantee reliable care and around-the-clock protection, each and every day — no matter what.
The Telecare® UL listed monitoring centre and secure data sever are both in Canada, and because we are a Canadian non-profit, all proceeds continue to serve the well-being of Canadians. What's more — we're the only non-profit in Alberta to provide Medical Alert services.
Useful for Everyone
The elderly individual who wants to age-in-place with dignity, the businesses with employees at times working alone, the young family whose childcare doesn't cover the hours in-between school and work, and the student living on campus — our services can be used to keep all of them a little safer at home.
Affordable for Everyone
Ensuring that Good Samaritan TeleCare® services are affordable for everyone is our core belief, and being transparent about fees, cancellation policies and having no long term contracts are our promises. Please check local agencies if subsidies are available in your province. In Alberta, seniors may qualify for subsidies from Alberta Seniors Benefits, AISH and Veterans Affairs. Our Customer Care will be happy to help with the application.
Available to Everyone
Good Samaritan TeleCare® can be used anyplace in Canada with access to a functioning telephone line or cellular network.
We believe the need for safety and security is universal.
TeleCare® services and products are available to everyone! We don't lock you into a costly contract, and our UL listed monitoring centre is manned by real people — meaning a real person, not a machine, calls you each and every time. We provide compassionate peace of mind, so you're never alone when you need help.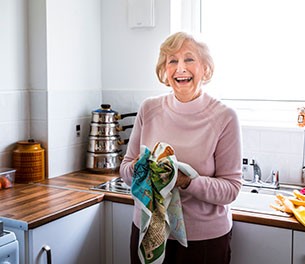 Good Samaritan TeleCare® is a service provided by The Good Samaritan Society, a non-profit charity.
Find out how The Good Samaritan Society is committed, invested and caring for our community.