TeleCare® SECUREGO is a Medical Alert Device embedded with GPS and mobile network LBS for enhanced location accuracy.
In addition, SECUREGO comes complete with 4G-LTE cellular service that enables two-way communications between you and the monitoring team, wherever you are. What makes SECUREGO even more powerful is it's built in Advance Fall Detection system. This feature ensures that the monitoring team is automatically notified of a fall, even when you are unable to initiate the alert on your own.
Portable
Be protected wherever you go and speak directly to the monitoring centre through the SECUREGO device.
Smart
This system automatically detects falls and connects you to the monitoring team, even when you can't access it to request help yourself.
GPS Enabled
GPS tracking allows your location to be traced and information to be shared with emergency services and responders when needed.
Our Products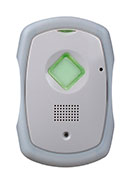 TeleCare® SECUREGO
A monitored medical alert device with built-in cellular reception enabling two-way communication between the user and our monitoring centre.
Learn More